Style icon
Inspiracja na wiosnę - oczywiście styl Alexy Chung. Zobaczcie same...
Spring inspiration - Alexa Chung's style of course. Take a look...
Beżowy płaszcz i paski...
Camel coat and stripes...
Szorty dżinsowe, botki, marynarki...
Jean shorts, booties and jackets...
Uwielbiam takie połączenie: zwykły T-shirt i ciekawa spódnica. Pełna równowaga.
I love such a combination: simple tee and a flamboyant skirt. Fully balanced...
Niby nic takiego, ale zobaczcie jak fajnie wyglądają te botki z przykrótkimi spodniami...
Nothing special, but look how the booties and too short jeans go well together...
Bardzo lubię takie sukienki, bardzo wygodne i nie musisz myśleć "Ale co do tego?".
I really like such dresses, very comfy and you don't have to think "And what else should I wear?".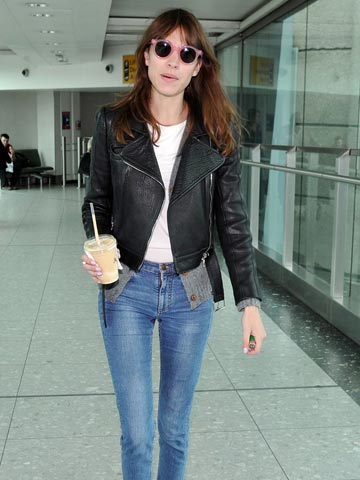 Podstawowe rzeczy, które musisz mieć: dżinsy, szary sweter rozpinany,
biały T-shirt i kurtka skórzana...
Staples you need to have: jeans, grey cardigan, white T-shirt and a biker jacket...
Alexa ubiera trencz do wszystkiego. Wygląda super i podkręca nawet najprostszą stylizację.
Alexa pairs her trench with everything. It looks great even with the simplest clothes.
Wszystko "pod kolor".
Matchy matchy :)
Skórzana spódnica i sweter... Bosko!
Leather skirt and a sweater... Love it!
Mała czarna, czerwone usta i rozwiane włosy...
LBD, red lips and "wind-brushed" hair...
Alexa ma dość prosty, niewymuszony styl. Za to ją uwielbiam.
Alexa's style is simple and unaffected. And that's why I love her....